More Details:
1. The buttons can be customized and have a burst function, making it easier to play.
2. S812 chip processor, 12-core operation (4 core CPU + 8 core GPU), turbo heat dissipation, high performance, low power consumption, fast program loading, smooth task processing, and game speed improvement.

18S PRO 4500 GAMES vs 18S PRO 4000 GAMES:
1. Material:
4500 games: All metal (metal body, metal panel)
4000 games: Metal body, acrylic panel

2. Dimensions:
4500 games: 29.92 inch (76cm) in length, 8.66 inch (22cm) in width.
4000 games: 25.59 inch (65cm) in length, space between the two sticks is 17.72 inch (45cm).
3. Light Up from inside:
18s pro 4500 games version: WILL NOT light up
18s pro 4000 games version: Light up

4. Number of games:
All Metal and Bigger Version: 4500 games
Metal Body and Acrylic Panel Version: 4000 games
HOW TO DISTINGUISH PANDORA BOX ARCADE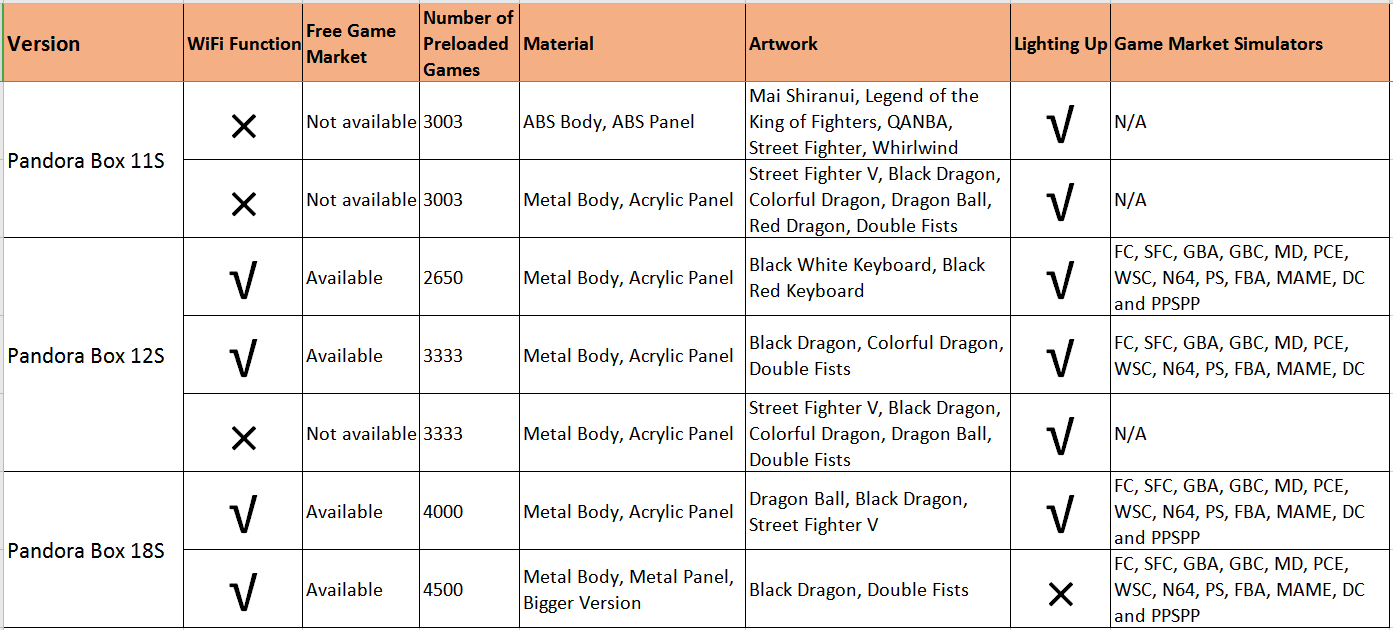 A List of 18S Pro 4500 Games: https://drive.google.com/file/d/1W7tofScewNExjDIoKvuMmRIwbJ1WfFrO/view?usp=sharing
PARAMETERS:
CPU: ARM Cortex A9 quad-core 2.0G
GPU: Mali450MP8
RAM: 1G
Flash memory: 2GA
Video output: HD/VGA 1280*720 P

PACKING LIST:
All Metal Game console * 1
Adapter * 1
Power cord * 1
3M HDMI cable * 1
VGA cable * 1
USB cable * 1
Manual * 1
Spare button * 2
Another Artwork Black Dragon: https://www.ploylab.com/h-product-detail.html?goods_id=1491778