Extra Controllers for 4 Players:
https://www.ploylab.com/h-product-detail.html?goods_id=1658492
Other artwork for this 18S PRO 4000 GAMES WiFi Version:
Black Dragon: https://www.ploylab.com/h-product-detail.html?goods_id=1309320
Street Fighter V: https://www.ploylab.com/h-product-detail.html?goods_id=1492519
Exclusive Promotion for Madlittlepixel's Followers: Money Off $40
Coupon Code: PD40 (Expired)
Valid: July 17th - August 31th
Original Price: $399.99
Discount Price: $307.99
Spaces are limited and available on a first come first served basis.
18S PRO 4500 GAMES vs 18S PRO 4000 GAMES:
1. Material:
4500 games: All metal (metal body, metal panel)
4000 games: Metal body, acrylic panel

2. Dimensions:
4500 games: 29.92 inch (76cm) in length, 8.66 inch (22cm) in width.
4000 games: 25.59 inch (65cm) in length, space between the two sticks is 17.72 inch (45cm).
3. Light Up from inside:
18s pro 4500 games version: WILL NOT light up
18s pro 4000 games version: Light up

4. Number of games:
All Metal and Bigger Version: 4500 games
Metal Body and Acrylic Panel Version: 4000 games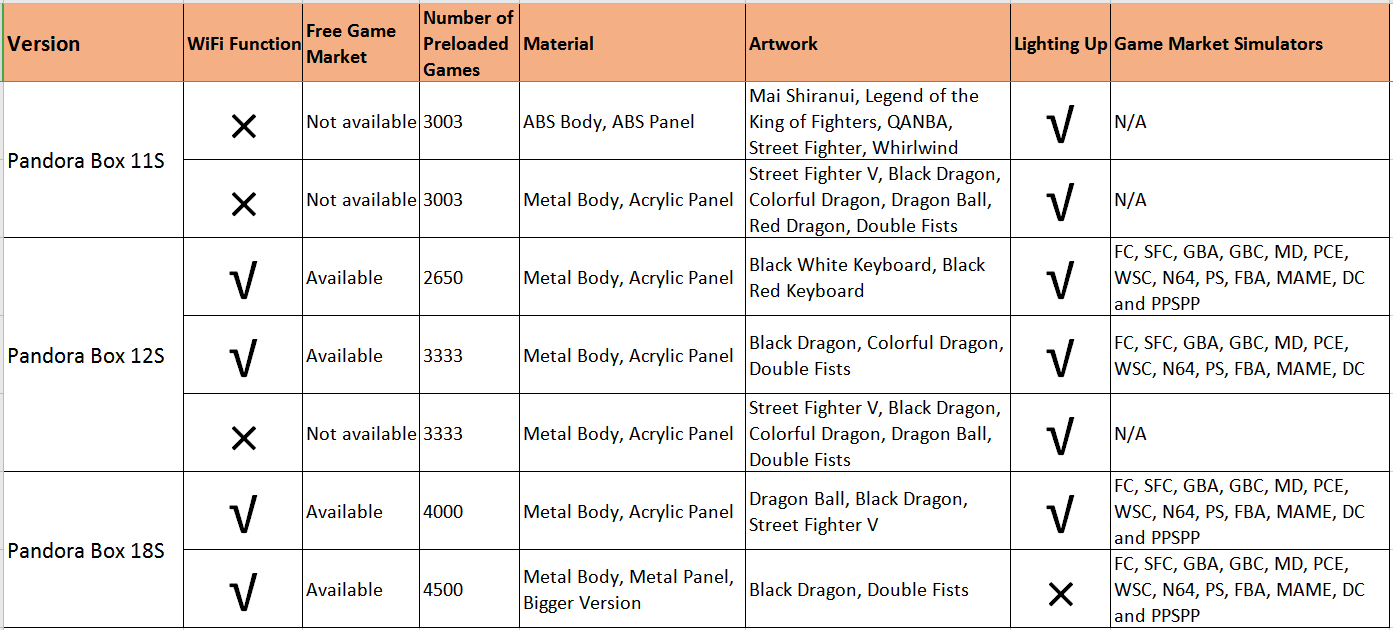 A List of 18S Pro 4000 Games: https://drive.google.com/file/d/1Vbvld-t4zcdhIg60N1irkF2-hVYNDHyA/view?usp=sharing
SHIPPING INFORMATION
Ship worldwide, for remote regions & countries, please consult us: [email protected]
EXPECTED DELIVERY DATE
Total Delivery Time = Handling Time + Transit Time (+ any holidays)
1. Handling Time: 1-5 business days
(Also known as Production Time or lead_time_to_ship) is the time between when the buyer places the order until the seller hands the order over to the carrier. )
2. Transit Time: 7-21 business days (Most of countries)
(Default shipping time, excluding handling time.)
Specifications:
.Material: Metal Chassis + Acrylic + Electronic Components
.Model: Pandora Box 18S Pro
.Product Dimensions: 64 x 22.5 x 6cm
.Product Weight: 3800g
.Package Dimensions: 71 x 27.5 x 16.5cm
.Package Weight: 4600g
.Packing: Carton Box
More Details:
1. With the function of searching games, checking the recently played games, you can collect your favorite games on the home page, and hide the game function.
2. You can customize the setting button, with burst function, easier to play. Can be connected to computer, TV, monitor, projector, and can switch languages (English, Chinese, Korean)
Package Content:
.1 x Game Console
.1 x Adapter
.1 x Power Cord (4 different plug types to choose from)
.1 x 3m HDMI Cable
.1 x VGA Cable
.1 x USB Cable
.1 x Manual
.2 x Backup Button